If you have trouble viewing this email, click here.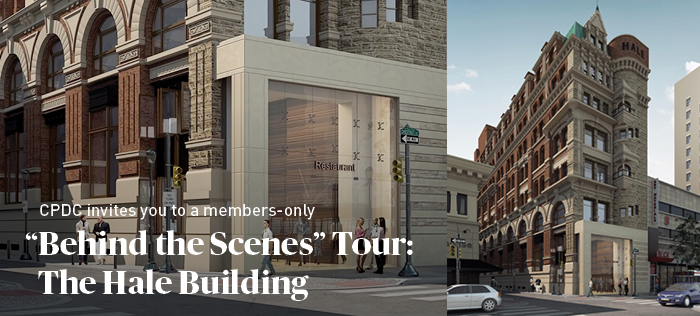 Project Overview & Tour

Thursday, December 13 | 8:30 a.m.
Hale Building | Spaces | 100 S. Juniper Street, 3rd Floor
Join us for a "Behind the Scenes" tour of the newly renovated and reimagined Hale Building.

Built in 1887 by W.G. Hale, who also designed the Divine Lorraine, the Hale is an architecturally fascinating and unique building. After a long and varied tenant history, from banks to detective agencies to theaters to a bath-house, the building lay dormant in recent decades. Brickstone Realty has restored this historic Philadelphia landmark with two floors of restaurant and retail and six floors of office space designed to foster innovation on floors leased to European-based coworking-space operator, Spaces.

Hear from Mark Merlini of Brickstone Realty and JP Lovejoy, Area Manager of Spaces, about the project and why they are investing and leasing in this area of Center City.

Space is limited due to event logistics and is available to members on a first-come-first-served basis.

Please RSVP by Tuesday, December 11 to Romina Gutierrez at 215.440.5543 or by clicking on the link below.