Development News
The Pursuit of Amazon: A Commentary
Economic development professionals in cities across North America are working at hyper-speed to respond to a Request for Proposals (RFP) released by Seattle-based Amazon for an initial site requirement for 500,000 square feet (sf) of office space that could grow to 8 million sf for up to 50,000 high-wage employees in what is described as a second corporate headquarters. Responses are due on October 19, 2017. To read Amazon's press release, please go to bit.ly/2wLSDlZ. To read the RFP, please go to bit.ly/2gJTdZV [PDF].
Business and real estate reporters nationally are busily handicapping the cities that might best meet Amazon's requirements, while Philadelphia's press is debating the merits of pursuing Amazon and handicapping local sites. The most remarkable of these stories was last Friday's column by architectural writer Inga Saffron, who briefly took off her critic's hat to write one of the strongest pitches for Philadelphia as a business location (bit.ly/2x1Wm0h), while today's Inquirer has a more conventional pitch from Drexel President John Fry (bit.ly/2xs4dET). On Sunday, Inquirer real estate reporter Jacob Adelman summarized current thinking on Philadelphia's site alternatives (bit.ly/2y7cs6w).
The pursuit of Amazon is an important exercise for the city not only because winning could have huge benefits, but also because the act of pursuit pushes economic developers and elected officials to assess our strengths and challenges, pinpoint needed infrastructure investments, and learn the habits of working collaboratively in pursuit of regional goals. Philadelphia learned a lot in the unsuccessful pursuit of the Olympics more than a decade ago.
But as Bruce Katz from Brookings noted in a recent post promoting his broader concept of innovation districts, "It's worth remembering that urban economies aren't really built by winning a contest; they are grown methodically by building on a region's strengths…the race for long-term prosperity isn't defined by the month-long sprint to lure $5 billion of investment from Amazon; the real game is the marathon of figuring out which cities will lead in the research, development, and commercialization of breakthrough technologies such as autonomous systems and genomics."
The perils of piecemeal economic development were brought into sharp focus by Councilman David Oh's introduction last week of Bill #170725, which would reduce the Business Net Income Tax rate to zero for new "megabusinesses" that choose to locate in the City of Philadelphia. To read the bill, please go to bit.ly/2xF8NAW.
Since being created in 1985, Philadelphia's Business Income & Receipts Tax (BIRT) has been amended almost 100 times, as more business types get carved out. In the last five years alone, there have been so many exemptions for specific categories of business that the number of filers with BIRT liability has been reduced by two thirds, down to just over 36,000 from approximately 100,000 five years ago. Fifty-seven percent (57%) of all BIRT revenue now comes from the commercial office sector, where it adds a 20% to 30% premium above suburban occupancy costs. As a result, the densest, most employment-intense land use in the city, with the broadest range of jobs at all income levels, is down 15% in employment levels since 1990, while business and real-estate tax-exempt educational and healthcare employers are up 55% in jobs during the same period.
So by all means, let's pursue Amazon. But let's not lose sight of the broader need for comprehensive and equitable tax reform that creates a climate where all businesses can grow as Philadelphia creates opportunity for all its residents.
---
Economic News
Philadelphia Still Poorest City
Philadelphia remains the poorest big city in the United States, with poverty and deep poverty rates at 25.7% and 12.2%, respectively, statistically unchanged in 2016, The Philadelphia Inquirer reported, based on data from the U.S. Census American Community Survey released on September 14. More than 37% of children in the city live in poverty.
In addition, median household income in the city, $41,449, fell slightly (0.7%), even as the U.S. average rose 1.9%, from $57,230 to $59,039.
The poverty rate for Pennsylvania in 2016 was 12.9%, compared to the U.S. rate of 12.7%.
To read the article, please go to bit.ly/2wbkmPO.
CPDC's January 2017 report, Incomplete Revival (bit.ly/2m9UkH1 [PDF]), notes the close correlation between the city's poverty rate and the lack of more dynamic job growth citywide. Between "1970-2000, Philadelphia's poverty rate grew dramatically. But it was not because the actual number of people in poverty skyrocketed, but rather because so many working-class and middle-class residents left for new housing, employment opportunities and quality schools in the suburbs."

---
Office Sector News
MakeOffices Readies Second Location
Coworking company MakeOffices on October 1 officially will open its second location in Philadelphia, a 57,320-square-foot hub at 1635 Market Street, Technical.ly Philly reported on September 12. MakeOffices opened its first coworking space last year at 2001 Market Street.
The new space has private offices that can accommodate from one to nine people, plus members have access to eight conference rooms, massage chairs, a "device lab" for app testing and a recording studio.
MakeOffices is still negotiating for a third location at The Bourse, the article noted. To read the article, please go to bit.ly/2xj3yWl.
---
Eds and Meds News
Jefferson Health Merges with Kennedy Health
Jefferson Health and South Jersey's Kennedy Health have finalized a merger agreement, which will create a multi-state health system with more than 27,000 employees and annual revenues of more than $5 billion, the Philadelphia Business Journal reported on September 14.
Kennedy operates hospitals in Cherry Hill, Stratford and Washington Township, which collectively are licensed for 607 beds, along with a home care division, a long-term and rehabilitation care center and a network of outpatient care centers and primary care and specialty physician practices.
Earlier this year, Thomas Jefferson University finalized a merger with Philadelphia University to create the city's fifth largest university.
To read the article, please go to bit.ly/2wcn9In (requires subscription).
---
Residential Market News
Gentrification in Philadelphia
PlanPhilly reports on a new article by Jeffrey Lin of the Federal Reserve Bank of Philadelphia, who focuses on Philadelphia as he examines the causes of gentrification and suggests there are four main reasons: amenities, productivity, access, and prices.
Lin reviewed over a century of census data, tracking decade-by-decade shifts in neighborhoods' average household income relative to other neighborhoods in the city. He found that rapid change is a constant in Philadelphia's history and notes that neighborhoods revert to the mean over time: wealthier neighborhoods decline and poorer neighborhoods improve.
To read the PlanPhilly article, please go to bit.ly/2vXXteo. To read Lin's report, Understanding Gentrification's Causes, please go to bit.ly/2xDnrbT [PDF].
---
Hospitality News
Bill Creating New Hotel Fee Passes in City Council
Philadelphia City Council on September 14 unanimously approved Bill #170468, introduced on May 11 by Councilman Derek S. Green, which creates the Philadelphia Hospitality Improvement Levy District and adds a room fee of 0.75% to the daily rate at Philadelphia hotels, The Philadelphia Inquirer reported.
Unlike geographically based "business improvement districts," the "Hospitality Improvement District" levies an additional assessment citywide, only on hotel properties.
The assessment is expected to generate $5.8 million next year, which will be used to attract events and groups to increase occupancy in hotels and will be managed by a Neighborhood Improvement District Management Association (NIDMA) for the new Hospitality District.
The bill was created after the Commerce Department indicated it would not have funds for attracting conventions and events like the Army-Navy Game that fill the hotels. To read the article, please go to bit.ly/2ycpiB9. To read Bill #170468, please go to bit.ly/2qTze14.
New Messaging Toolkit
Visit Philadelphia has created a Philadelphia Messaging Toolkit to continue to get positive news out about the city. In addition to touting accomplishments and accolades, the Toolkit contains messaging about the region's offerings, facts and statistics for presentations, speeches, plus government and business resources.
To view or download, please go to vstphl.ly/2f2bapy [PDF].
---
Gaming News
Revenue Dips at SugarHouse
Revenue at SugarHouse Casino on the Delaware River fell slightly in August to $23,069,925, down from July's $24,610,093, according to the Pennsylvania Gaming Control Board.
The commonwealth collected $6,033,267 in August, compared to $6,425,822 in July. The City of Philadelphia collected $181,051, compared to July's $194,161.
To view all casino revenues, please go to bit.ly/2uMroWC.
---
Transportation News
SEPTA Adds to Service to Wilmington
SEPTA added round-trip trains to Wilmington on weekday mornings and Saturday nights, effective September 10, Delaware Business Now! reported.
The weekday morning train leaves 30th Street Station at 8:09 a.m. and arrives in Wilmington at 9:02 a.m.; the return train leaves Wilmington at 9:50 a.m. and arrives at 10:38 a.m. The Saturday night train leaves Philadelphia at 10:32 p.m. and arrives at 11:17 p.m.; it leaves Wilmington at 11:34 p.m., and arrives at 12:21 a.m.
To read the article, please go to bit.ly/2ycxCAX.
---
Retail News
New Report Documents Growth of Outdoor Seating in the Downtown
Sidewalk seating at outside cafés in Center City has increased 383% since the Center City District began surveying in 2001, and the amenity has been adopted by a variety of other retail and non-retail venues throughout the downtown. More than half of outdoor seating locations are located in Midtown Village, Old City and Rittenhouse Row.
A new Center City District/Central Philadelphia Development Corporation report released on September 12 and based on CCD original surveys and research, documents the significant growth of sidewalk seating at restaurants, cafés, bakeries, and ice cream parlors and illustrates how this outdoor amenity has expanded to plazas and under-utilized parks, further enlivening Philadelphia's downtown.
To get all the latest data on outdoor seating in Greater Center City, please visit our website and download the new report, Outdoor Seating 2017, at centercityphila.org/research-reports/outdoor-seating-2017.
CCD Launches Shopping Campaign
Center City District (CCD) and the Philadelphia Retail Marketing Alliance (PRMA) on September 7 revealed a new consumer-oriented marketing campaign, Shop Center City, focused on increasing Center City's regional market share by encouraging city and regional shoppers to discover the "Only in Center City" experience: If it's in, it's in Center City.
In spring 2017, the CCD conducted a customer survey to gather information on Center City shoppers, including their spending patterns and shopping preferences. The survey was distributed to a list of 76,000 people who live and work throughout the region and routinely come into Center City. Survey respondents said they most valued Center City experiences not available elsewhere in the region or online.
Ads are being placed in print media, bus shelters, car cards and digital screens on Regional Rail, and LED screens at Dilworth Park. To learn more, please visit ShopCenterCityPhilly.com. To read press coverage of the launch, please see an article in the Philadelphia Business Journal at bit.ly/2vSsIro.
---
Arts and Culture News
William Penn Foundation Releases Annual Report
The William Penn Foundation on September 7 released its annual report on its accomplishments and the initiatives the foundation supported during 2016, including a $100 million commitment toward Mayor Jim Kenney's proposed $500 million Rebuilding Community Infrastructure program ("Rebuild").
The report noted support for 32 arts groups; Monument Lab, a nine-week public art and history project produced by Mural Arts Philadelphia; plus $15 million to expand Fund for Quality, a program that supports high-quality early education; and $3.5 million in grants to address loss of forested headwaters, agricultural runoff and polluted stormwater, among others. The Foundation also provided generous support to the Center City District Foundation and the Central Philadelphia Development Corporation.
To read the report, please go to bit.ly/2xl0Ob8.
Arts Organizations Merge
The Philadelphia Art Alliance will merge with the University of the Arts to become the Philadelphia Art Alliance at the University of the Arts, the Philadelphia Business Journal reported on September 11. The new entity will be led by University of the Arts leadership.
The merger was agreed upon unanimously by both boards, but still needs state approval, for which the paperwork was filed on September 4.
To read the article, please go to bit.ly/2jm4vb6.
---
Parks and Open Space News
Celebrating Dilworth Park's Third Anniversary
On Wednesday, September 20, from noon to 3:00 p.m. and 5:00 p.m. to 7:00 p.m., the Center City District has created programming for Dilworth Park's third anniversary, the Neighborhood Arts Celebration, which includes special performances by arts groups from across Philadelphia, supported by PNC.
A special outdoor happy hour at the Dilworth Park Café and Air Grille will feature cocktails with Maker's 46 and cold Bud Light.
Stop by the PNC booth from 11:00 a.m. to 6:00 p.m. to see how PNC can serve your banking needs and for a chance to get a $10 PNC Bank gift card (first five people) when you show the weekly @CCDParks Twitter Post.
Performances on a variety of stages throughout the day are powered by LiveNation. For a complete list of participants and performers, please go to bit.ly/2femij8.
In addition, the popular midday concert series, PNC Presents Live @ Lunch at Dilworth Park, returns on September 20, from 12:00 noon to 1:30 p.m., and will be part of the anniversary celebration and continue each Wednesday through October 18. Enjoy lunch on the PNC Terrace with your favorite specialty from the Dilworth Park Café.
Here's the musical lineup: Joy Ike, September 20; Ernie Halter, September 27; Nelly's Echo, October 4; Matt Cusson, October 11; and Philly Keys, October 18.
For information on all the events at Dilworth Park, please go to DilworthPark.org.
Latest Rail Park Update
A drone flyover from Philly By Drone reveals the most recent construction progress at The Rail Park, where new concrete is being poured over the renovated steel structure in preparation for the installation of new landscaping, benches and swings (see photo). To view the video, please go to bit.ly/2hcpuMJ.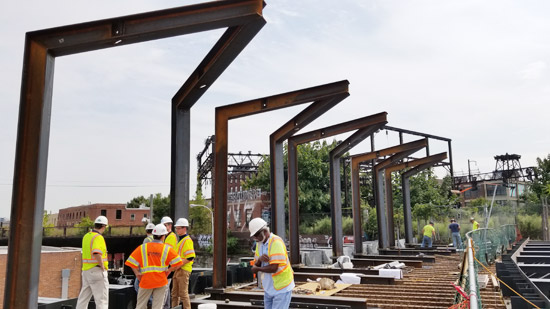 The Center City District Foundation is extremely grateful for the generosity of donors to the $10.3 million project, to be completed in early 2018. Please help us close the final funding gap by donating at supportccdf.org.
---
Government News
State Representative John Taylor Not Seeking Re-Election
State Representative John Taylor (R., Philadelphia) first elected to the state House of Representatives in 1984, announced he will not seek an 18th term.
Taylor currently serves as chairman of the House Transportation Committee and has been an avid supporter of the Philadelphia Growth Coalition's efforts to reform property taxes by creating a constitutional amendment to the uniformity clause, sponsoring, along with State Representative William Keller (D., Philadelphia) the bipartisan bill HB 871, now in the Senate as SB 41.
Billy Penn noted Taylor's adeptness at getting bills passed. To read the article, please go to bit.ly/2xQANx8.
L&I Adding Inspectors, Two Offices
The City of Philadelphia's Department of Licenses & Inspections (L&I) is adding two new satellite offices, one at 3007-09 Grays Ferry Avenue, supporting 30 inspectors, and a second one at 1514 Cecil B. Moore Avenue, with 25 inspectors, PlanPhilly reported on September 12. Both are expected to open in spring 2018.
In addition, the number of building inspectors increased by 18 in 2017 along with 17 additional code enforcement officials.
L&I GIS analysts also have been working on breaking districts down to census-tract levels to analyze which areas have the greatest numbers of building permits, operation services requests, and types of requests. The changes were made possible through a series of budget increases over the last three years, directly related to the building collapse at 22nd and Market Streets, where six people were killed.
To read the article, please go to bit.ly/2wYX6Dy.
Commercial Property Owners Sue City Over Reassessment
A group of 59 commercial property owners on September 14 filed suit in Common Pleas Court against the City of Philadelphia, alleging the City acted improperly when it reassessed 65,000 commercial and industrial properties for 2018, while not including residential properties, The Philadelphia Inquirer reported. The City has not responded to the suit.
The Office of Property Assessment (OPA) reassessed the residential properties of 530,000 homeowners in 2017.
To read the article, please go to bit.ly/2x5YZN1.
Moody's Upgrades School District's Bond Rating
The credit-rating agency Moody's has upgraded the Philadelphia School District's bond rating for the first time since 2010 — and shifted its long-term outlook on the district's financial health from "stable" to "positive," the Philadelphia Public School Notebook reported on September 8.
The district's new bond rating, Ba2, still is considered "non-investment grade," but the upward revision suggests Moody's sees hope in the district after years of financial hardship, the article noted. Analysts praised district leadership in its credit opinion.
To read the article, please go to bit.ly/2xyaJeb.
---
Center City District Survey
For 26 years, the Center City District (CCD) has been making downtown Philadelphia clean, safe and attractive with lighting, signs and landscaping. Ten years ago, CCD began renovating and programming Center City parks, including Dilworth Park and Sister Cities Park. CCD produces Restaurant Week and publishes key research on issues that impact Center City. What can it do better or differently? Please take a brief survey and you'll be entered to win $250 in restaurant gift certificates. Five lucky winners will be randomly selected.
CCD appreciates your taking the time to respond to this survey. It should take no more than a few minutes to complete: ccdsurvey.com.
---
Upcoming Events
CPDC Membership Meeting: Reviving Market East
The CPDC Membership Meeting will be held on Tuesday, September 26, at 8:30 a.m., in Lincoln Hall, at the Union League, 140 South Broad Street. The topic will be Reviving Market East: Philadelphia's Original Shopping Street.
Construction crews have been busy all summer on Market East. Owners of the historic Lit Brothers department store building, first to install large-format digital signs, are making significant upgrades to the concourse, redoing sidewalks, enhancing street furniture and bringing in new tenants. New façades are being constructed, as the 1.4-million-square-foot Gallery Mall is being transformed into the Fashion District Philadelphia, a retail, entertainment and food and beverage destination spanning three city blocks. Across the street on the 1100 block of Market Street, redevelopers of the Girard Estate are fitting out their first residential tower, installing façades for 135,000 square feet of new retail, while a second residential tower is rising on the west end of the site. In all, more than 1.1 million square feet of retail will be added, part of $815 million in new investment east of Broad Street.
Find out more about the latest construction and leasing developments that are restoring Market East as one of Center City's major retail districts.
The panel of speakers will be Joseph F. Coradino, CEO, PREIT; Daniel Killinger, Managing Director, National Real Estate Development; and Mark Merlini, Partner, Brickstone Realty. The discussion will be moderated by Paul R. Levy, Executive Director, CPDC.
Business attire required. No denim. CPDC members are encouraged to invite both young professionals and other members of their firms to attend this meeting.
Please RSVP to Romina Gutierrez by Wednesday, September 20, at rgutierrez@centercityphila.org or 215.440.5543.
Cultural Alliance Annual Member Meeting
The Greater Philadelphia Cultural Alliance will hold its 2017 Annual Member Meeting & Reception on Monday, September 25, from 5:00 p.m. to 8:00 p.m., at the Penn Museum, 3260 South Street.
Latest arts and economic prosperity numbers will be announced along with the Pre-K Award grantees and the Alliance's DEI Action Plan.
The event is free for Cultural Alliance members; $25 for non-members. To register, please go to bit.ly/2x4Ywwd.