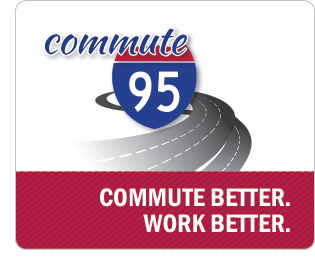 Commuting Resources Now Available!
We all know it's out there: construction to improve Interstate 95 in Philadelphia. It will be great when it's finished, but it will take a while to complete. Ongoing work to rebuild pavement, bridges, and ramps means temporary delays for travelers, especially weekday commuters. Employees need to reach their workplaces on time, and employers need their employees to arrive safely and promptly. To help everyone get where they need to go, the Delaware Valley Regional Planning Commission (DVRPC) and PennDOT have created resources to assist employers and employees with planning and implementing programs to ease commutes during the most challenging phases of construction.
Some suggestions include:
• Encourage employees to commute by taking transit, bicycling, or ridesharing.
• Explore alternative work schedules.
• Implement new commuting policies and incentives.
• Stay informed by visiting 511PA.com and 95revive.com for road conditions and construction updates.
For more information, resources, tips, and suggestions, please visit dvrpc.org/commute95 or reach out to Erika L. R. Morgan at the Clean Air Council. She can be contacted by email at emorgan@cleanair.org, or by calling 215.567.4004 ext. 111.
About Commute95
Commute95 is a joint effort between the Pennsylvania Department of Transportation (PennDOT), the Delaware Valley Regional Planning Commission (DVRPC) and Central Philadelphia Transportation Management Association to educate employers and commuters along I-95 about alternate commuting options during construction. For more information, visit dvrpc.org/commute95.