A Bit of France on Walnut
Caribou Café is celebrating its 25th anniversary with a gastronomical tour of 12 regions of France in 12 weeks. Each week, a different region will be featured with a $25 prix fixe menu available Sunday-Thursday, all day. The first three regions: Alsace through November 17; Brittany, November 20-24; and Champagne, November 27-December 1. For details and reservations, visit cariboucafe.com
Caribou Café, 1126 Walnut Street, 215.625.9535, CaribouCafe.com

Nails Done Naturally
New to Center City is Naturale Salon, a clean, relaxing, and modern space to enjoy your manicure & pedicure. Offensive fumes are eliminated by adhering solely to services for natural nails- no artificial enhancements. All porous items such as nail files, buffers & orange wood sticks will be discarded after each use. Steel implements will be carefully brushed in antibacterial soap, soaked in hospital grade barbicide, then placed in a sleeve, allowing it to bake in a heat autoclave. The grand opening is on November 18.
Naturale Salon, 1606 Locust Street, 267.559.0951, NaturaleSalon.com

Wajdi Mouawad's Seuls
Through the use of stunning imagery and physicality, Seuls tells the powerful story of a man who, as a child, moved to a new country from his home to escape civil war. As he loses himself in a new context and language, he soon realizes that his childhood emigration has begun to compromise his own sense of self—along with his capacity for happiness. Over the course of his performance, the character overcomes his self-doubt and finds release through color, sensation, and dream. Seuls was recently performed at France's La Colline – national theatre, a theater which Wajdi Mouawad joined as the Artistic Director this year. Seuls opens at the Wilma November 29 and runs through December 11.
Wilma Theater, 265 South Broad Street, 215.546.7824, WilmaTheater.org

InLiquid Artist Demonstration Saturdays
Join Blick Art Materials for a special series of demonstrations by InLiquid Art + Design artists! Every Saturday from 1-3pm, come to Blick Philadelphia for your chance to meet and discuss technique with professional artists from the InLiquid Microgrant program. November 19: Jeremy Sims - Epic Adventures; November 26: Angela McQuillan - Multi-Layered Painting Effects; December 3: Emily Cobb- Gold Leafing on Art Jewelry. Attendees have a chance to win a $50 store card. Preregistration recommended - Seating is first come/first serve. Click here to sign up.
InLiquid Art + Design at Blick Art Materials, 1330 Chestnut Street, 215.235.3405, InLiquid.org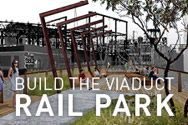 Construction Begins on the Viaduct Rail Park!
Ground has broken for Phase 1 of the Viaduct Rail Park, which will turn a dilapidated quarter-mile portion of the former Reading Viaduct into a vibrant green park with walking paths, landscaping, lighting, seating and gathering spaces. To date $9.5 million has been raised of the $10.3 million project.
Help us get to our goal today by making a gift or joining our new crowd-funding campaign.