MAKE REAL CHANGE
END THE CYCLE OF HOMELESSNESS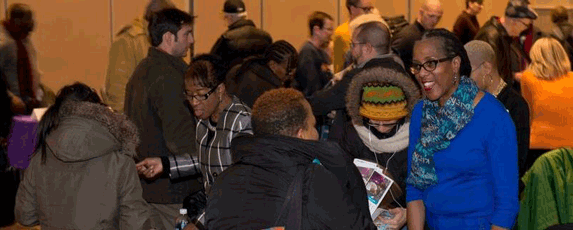 We want to thank close to 200 people who took time from their busy schedules to come to the Pennsylvania Convention Center on December 15th to talk with representatives from more than two dozen local organizations that provide food, housing and social services to the homeless. We heard so many positive comments both from the residents and workers who attended, as well as from the organizations who work each day to end the challenge of homelessness.
As you know, their work and our work is far from done. For those who were unable to attend and for those who want to continue to explore how to help, we've created a comprehensive list of all the groups who attended, plus many other providers, and direct links to all of their websites, so you can learn more about what they do and how you can help.
Best wishes for the holidays and the New Year!
Sincerely,
Elizabeth G. Hersh
Director
Office of Homeless Services
City of Philadelphia
phila.gov/osh


Paul R. Levy
President and CEO
Center City District
centercityphila.org